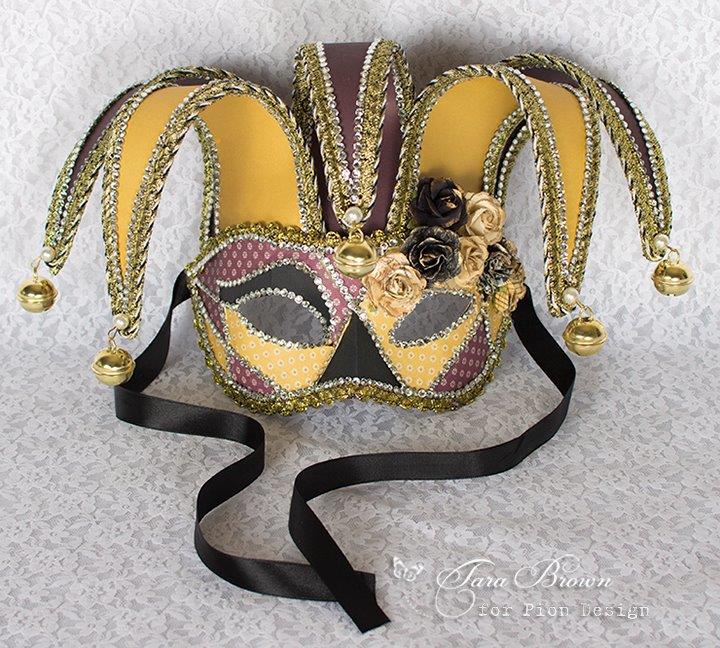 Hi!  I hope everyone is doing great and enjoying the transition of the seasons!  I used the "Summer Falls Into Autumn" Pion Design papers to make this project. This post can also be found on the Pion Design Blog for Sept. 23 here. This Venetian Jester Mask was easy to make – just pick up a plain, inexpensive, plastic white mask from your local craft store and then cut pieces of different papers to glue on the front of the mask.  Outline each of the different pieces with gemstones.  Make the top jester flaps by doubling thick cardstock and then adhere the longer triangular ends of each flap to the top of the mask so that the pointed ends can be bent forward and downward.  I used the matching, sturdy Pion Design Palette for the flaps.  Glue ribbon on each side of the mask to be able to tie the mask around the back of the head.  Decorate with lace trim, gemstones, flowers, and bells.  This project is a fast and easy one – perfect for Halloween or a masquerade party!
Pion Design is releasing another Christmas paper collection!  It promises to be just as beautiful and special as all their other collections, and I've included a preview of this upcoming collection.
Pion Design proudly presents Christmas Wishes, a traditional Christmas collection embracing the magic of the holiday! More information coming soon!